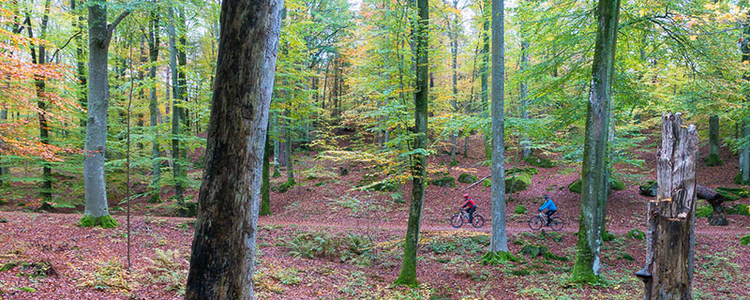 The forest of Brunnsskogen, Sweden
The forest of Brunsskogen is one of the two Swedish pilot areas. It is situated in the city of Ronneby just close to the train station and only 10 minutes' walk from the heart of the city.
It is a popular place for Ronneby's inhabitants and interesting destination for those who come to Ronneby for vacation or short visit.
Old documents show us that the story of Brunnskogen is close related to that of the adjacent park, Brunnspark. In this park, in the year of 1705 the first water springs were discovered. Since then until the year of 1939 people have visited this park every year to drink the healthy water.
During the second half of 18 century and the first of 19 century the area around the water springs developed enormous and new beautiful buildings that we can still admire today were built.
In the year of 1873 the company Ronneby Helsobrunn AB, owner of the water springs, bought the 100-ha large nearby area including some forested areas. New trails were built and suddenly it was not just the healthy water to attract visitor but even the possibility to do outdoor activities, exercises and embrace healthy living. People had the possibility to experience the wilderness of the forest walking along winding paths, with amazing views while enjoying fresh air. Walks represented then like today an important part in the process of achieving physical and psychological well-being.
In Brunnsskogen there is a lake named Trollsjön. This was the place where people could rest, enjoy the beautiful surroundings and even take a rowing tour. There were horses and wagons for those who had difficulty to get to the lake. With time, bathing facilities including changing cabins and diving torn were built. In the forest close to the lake a restaurant was built and visitors got used to enjoy their coffee in this magical environment under the shadow of trees.
This area includes today the forest of Brunnskogen where one of project's pilot area is located. The trails built during the 19 century are the trails still used today and by the lake of Trollsjön instead of the romantic restaurant we find a barbecue area.
Brunnsskogen represents a place reach of biodiversity, a place where nature, animal and people can meet and connect, relax and get new energy. It is today used for a wide range of activities, orienteering clubs arrange trainings and competitions and schools carry on different activities and excursions. Part of the forest is Natura 2000 reserve.
If you come to Ronneby don't miss to visit Brunnsskogen and Brunspark. A good start point is Naturum were you can find more information about the area.