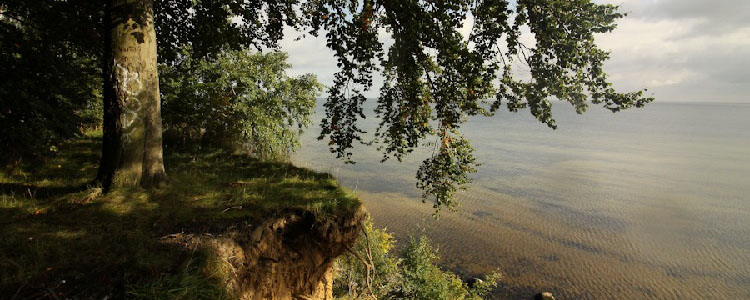 Rzucewo Forests, Poland
The colonization in the Wejherowo region started thousands of years ago. The most famous is the settlement of seal hunters. This name was given to a settlement established at the turn of the 3rd and the 2nd centuries BC (2500-1700 BC). It belonged to the culture of the people of Rzucewo. The settlement was located at the hill-side of Kępa Pucka and the so-called "Rzucewo Cape". In the close proximity to the culture site there is located a 19th century palace playing nowadays a role of the hotel. What is more, many significant events have taken place in the surroundings. They are commemorated by, e.g. a monument of Świecino battle and graves in Piaśnica - a place of martyrdom from the Second World War.
The demonstration forest around the Rzucewo village is consisted of a picturesque and over century old hardwoods standings (lime, plane tree, hornbeam, larch, beech) and is neighbouring in east with the Puszcza Darżlubska (Darżlubska Forest) Nature 2000 site (PLB220007) as well as in the south with the Zatoka Pucka and Półwysep Helski (Puck Gulf and the Hel Peninsula) Nature 2000 site (PLH220032). This is also a great location for the birdwatching activities, especially when it comes to the sea species.
Moreover, the Forest District in Wejherowo is carrying the independent game management out in two hunting districts of Game Breeding Centre. One of them covers the area of the Hel Peninsula and the other is located on the Żarnowieckie Lake. Both in the close proximity to the Rzucewo Demonstration Forests.
The Forest District in Wejherowo sells hunting for hunters from Poland and abroad and offers collective and individual hunts. They are organized according to the ceremonies and old traditions of hunting. The following species are offered: red deer, fallow deer, roe deer, wild boar, wild ducks and predators.
The "Attractive Hardwoods" project will help to develop the tourist products in terms of hunting and birdwatching. Also, the historical site of the area needs to be further included into a strategy of the development of the ecotourism on the cross border terrains.