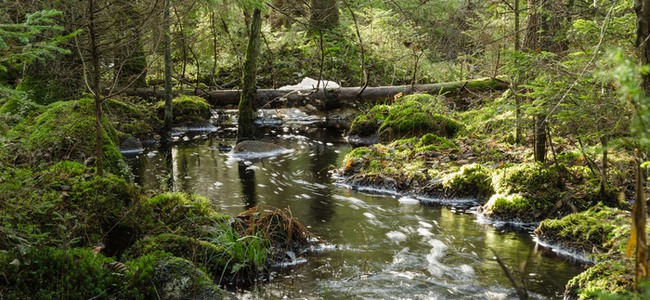 WAMBAF
WAMBAF is short for Water Management in Baltic Forests. The project was running from March 2016 to February 2019 with a total budget of 2.9 million Euro. The major part, 2.3 million Euro, was financed by the EU Interreg Baltic Sea Region Programme, and the rest by the project partners.
The main motivator for the project was to support the implementation of EU Water Framework Directive (WFD) (2000/60/EC). More specifically, the aim was to reduce the export of nutrients and mercury from forestry to streams, lakes and the Baltic Sea.
WAMBAF focused on three main factors that significantly impact water quality: riparian forests, forest drainage and beaver activity.
Planning tools, guidelines, films and a handbook were developed and produced. Training courses were carried out in demonstration areas established in forests around the Baltic Sea. More than 600 persons representing forest enterprises, forest owners, hunters, authorities, NGOs, scientists and students were taking part in the training courses.
The partnership consisted of nine partners representing institutes/universities, authorities and a forest enterprise. All results from the project are available at this website.