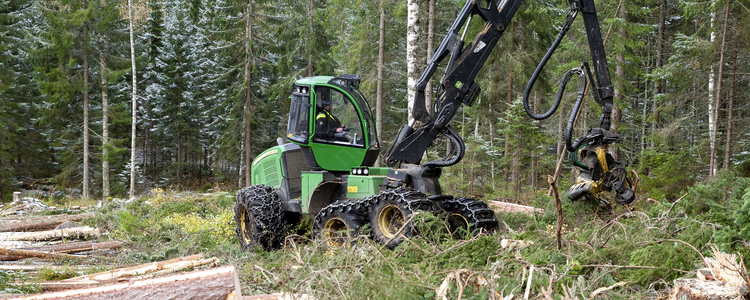 This year's felling is expected to be slightly lower than last year's record felling
This year's gross felling in Swedish forests is expected to be slightly lower than the record year 2021, according to a new forecast from the Swedish Forest Agency.
According to the Swedish Forest Agency's preliminary statistics, the gross felling in 2021 amounted to 96.6 million cubic meters standing volume. The Swedish felling has never been higher, with the exception of 2005 following the storm Gudrun. A forecast for this year's felling shows that felling is expected to decrease slightly to 96 million cubic meters standing volume. The expected decreased felling is explained by changed production in the wood-consuming forest industry and changed net imports of roundwood.
The harvest of sawlogs is estimated to decrease as an effect of the prognosis that production of sawn wood products this year is expected to be 4 percent lower than 2021. The harvest of pulpwood is instead estimated to increase by 5 percent as the forest industry's production of pulp is expected to be higher this year. The harvest is also estimated to increase slightly because of a reduced net import of roundwood. The net import is estimated to decrease by 8 percent as the export of roundwood is expected to be higher this year than in 2021. In total, these changes mean that this year's felling is expected to be a bit lower than in 2021.
The Swedish Forestry Agency recently published statistics that the area covered by notifications and applications for permits of final felling so far this year has decreased by 20 percent. The forecast of this year's total gross felling that we present here means that the Swedish Forestry Agency assesses that the gross felling will not decrease to the same extent as the notified area for final felling. It is possible because many companies normally have several objects registered that they plan to harvest over a longer period.
Regional felling statistics
The county-specific felling statistics have been updated with statistics for the period 2019–2021. These statistics show that Västerbotten County is the county where felling is highest. About 9 per cent (8.8 million cubic meters) of Swedish felling takes place in Västerbotten County. Västerbotten County is followed by Västra Götaland County, where an average of 8.2 million cubic meters standing volume is harvested per year.
Explanations
Gross felling: Total harvested trunk volume, including trunks not removed from the forest. Measured in cubic meters standing volume (m3sk) which means the trunk volume above the stump including top and bark but excluding branches.
The statistics are part of the Official Statistics of Sweden, except forecasted felling.
The Swedish Forest Agency annually produces a forecast for this year's felling. The forecast which is reported to UNECE/FAO is based on forecasts and assessments of production in sawmills, pulp production, consumption of roundwood for energy purposes, foreign trade of roundwood and stock levels of roundwood
PxWeb databases
Produce tables and diagrams by selecting your subject and variables.