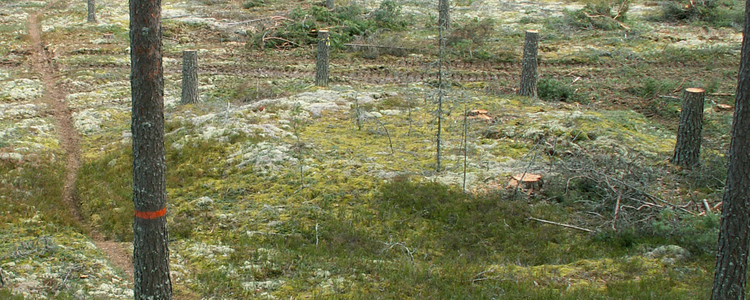 Less damage to cultural remains in 2022
According to the Swedish Forest Agency's inventory, the proportion of known cultural remains that are affected by regeneration felling has decreased slightly since 2021. At the national level, the proportion of damaged and severely damaged cultural remains is now at the lowest level since the inventory began in 2012. However, in northern Norrland the proportion of damaged and severely damaged cultural remains has increased.
The percentage of known cultural remains with damage or severe damage after regeneration felling is 11 percent for the whole country for this year's follow-up. Last year, the corresponding share was 13 percent and 22 percent in 2020. There is a statistically significant trend of decreasing injuries since the inventory started in 2012,
Northern Norrland has a continued high proportion of damage and serious damage, 17 percent this year compared to 16 percent in 2021. In southern Norrland and Götaland, this year's level of damage has dropped from 16 percent in 2021 to 14 and 12 percent, respectively, when it comes to damage and serious damage. The proportion of damage and serious damage in Svealand was 7 percent last year and 8 percent this year.
Soil scarification the most common cause of damage or serious damage
Soil scarification continues to be the most common cause of damage or serious damage in three out of four regions of the country. The exception is southern Norrland, where damage caused by wind-felled trees is more common than damage caused by soil scarification.
Culture heritage stumps work well as signal and protection
Where culture stumps are used, we see a lower proportion of cultural remains damaged by regeneration activities. A culture stump is a 1.3-meter-high stump that is used as a marking at the cultural heritage site.
In all parts of the country, the level of damage is lowest where culture stumps are placed correctly, i.e. outside and around the cultural heritage site. The levels of serious damage in 2022 where culture stumps were placed correctly was between 1-3 percent. The proportion of cultural remains with correctly placed cultural stumps has a large regional variation, from 38 percent in southern Norrland to 3 percent in Götaland.
When culture stumps have been used in any form, 92% of cultural remains have neither damage nor serious damage.
Many surrounding consideration areas are damaged during regeneration felling
Around 40% of surrounding consideration areas (protected area around a cultural heritage site) suffer damage or serious damage during regeneration felling. Soil scarification is the single most important cause of damage, it causes almost 33 percent damage and serious damage in Svealand and Götaland.
Planting on cultural heritage sites common in Götaland
Planting on cultural remains is common in Götaland. It has occurred on every sixth cultural heritage sites in Götaland, every seventh in Svealand and fewer than every tenth in southern and northern Norrland. Planting does not mean that the sites are damaged directly but increases the risk of damage in the future. Planting also reduces the visibility of the remains.
Explanation
Cultural heritage sites
Ancient remains and other cultural heritage sites. In the forest there may be ancient remains such as stone age settlements and tombs, but also other younger cultural heritage sites reflecting human history such as charcoal production sites and building remains.
Degree of damage
None
Minor (e.g., light track damage, branches left)
Damage (Obvious damage that can be restored, e.g., deep track damage, light soil scarification)
Serious damage (Irreversible damage that cannot be restored)
Cultural heritage stump
A 1,3-meter-high stump used for marking of the cultural heritage site.
Regions
Northern Norrland – Norrbotten and Västerbotten counties.
Southern Norrland – all other counties in Norrland
Svealand
Götaland
The survey is included in the Official Statistics of Sweden.
Whole country
Source: Swedish Forest Agency

Cultural heritage sites includes all historical-cultural values. A site might be damaged by several damage causes. The highest degree of damage decides a site`s overall degree of damage.