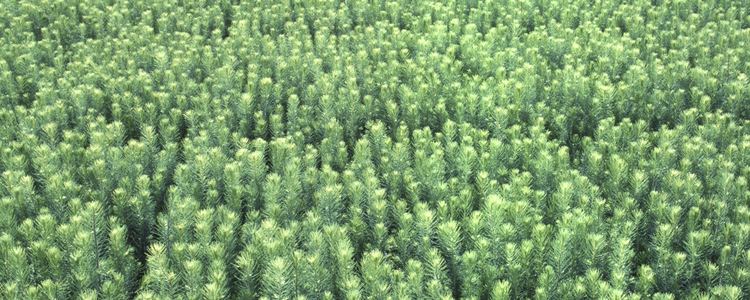 Increase in delivered seedlings 2020
During 2020 the amount of delivered seedlings of Scots pine (204 million) exceeded the amount of delivered Norway spruce (190 million) for the first time since this survey started. This is shown by annual statistics from the Swedish Forest Agency on sold seedlings.
In 2020 407 million seedlings of forest species were delivered, which is an increase by 26 million compared with 2019. The increase is due to an increase of delivered seedlings of Scots pine.
The number of Scots pine seedlings has increased steadily since 2013, although with a slight decrease in 2019. However, the number of Norway spruce seedlings decreased by about 5 million in 2020. Spruce and pine seedlings together constitute 97 percent of the total number of forest seedlings delivered. The declining trend of the number of delivered lodgepole pine seedlings has been broken and we see an increase in 2020. Lodgepole pine now make up for 1.8 percent. The number of broadleaf seedlings is increasing slightly but is still only 0.6 percent of the total.
Production method
Container-rooted seedlings is the dominating method of production for coniferous species. Scots pine and lodgepole pine are basically only produced as container-rooted seedlings. The share of Norway spruce seedlings produced as container-rooted in 2020 was 77 per cent, which is unchanged from 2019. Most other coniferous species and deciduous tree species are produced as bare-rooted seedlings. Only a very small share of coniferous seedlings were produced as transplanted container-rooted seedlings.
Propagation method
Seed propagation was the dominating method of propagation of coniferous seedlings 2020. The share of vegetatively propagated coniferous seedlings was negligible.
Protection method
The share of coniferous seedlings delivered with some sort of protection against insects was 54 per cent in 2020. The share of seedlings with some sort of mechanical treatment shows an increasing trend and was 50 per cent 2020. Correspondingly chemical treatment shows a clearly declining trend and was down to 3 per cent.
Origin
Seedlings originate from Swedish seed-orchards were 80 per cent of the total amount of delivered seedlings in 2020, which is unchanged from 2019. Seedlings of Scots pine almost solely (98 per cent) originate from Swedish seed-orchards. The share of Norway spruce seedlings originating from Swedish seed-orchards decreased slightly to 65 per cent in 2020.
Forest seedlings and seeds imported to Sweden for forest sowing
During 2019 just over 51 million seedlings were imported to Sweden from other countries. That means 13 per cent of delivered seedlings 2019 (out of 381 million seedlings in total) had at least partly been produced outside Sweden. The import of seeds from abroad to Sweden was nearly 2 300 kg, which is almost three times the amount imported in 2018. Norway spruce seeds accounted for just over 2 000 kilograms. which is more than the previous peak from 2007.
Statistics refer to seedlings and seeds for use in Sweden.
The survey is part of Official Statistics of Sweden.
All results are published in our statistical database.
Explanation:
Container-rooted seedlings – the roots are surrounded by a substrate cluster that usually consists of peat.
Transplanted container-rooted seedlings – container-rooted seedlings which are transplanted as bare-rooted seedlings.
Bare-rooted seedlings – seedlings without accompanying cultivation substrate (soil or peat) around the roots.