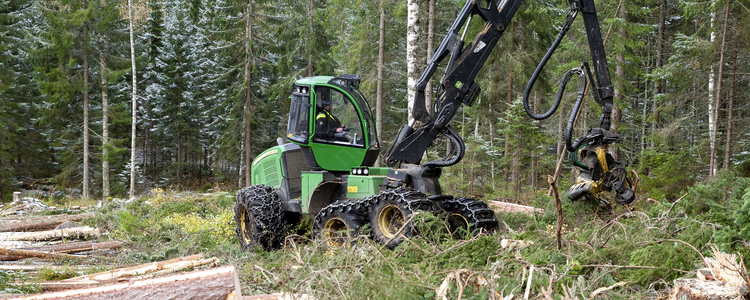 Felling statistics from the Swedish National Forest Inventory are now included in the official statistics
Yesterday, felling statistics from the Swedish National Forest Inventory were published for the first time as official statistics. Other news is that the felling statistics now contain data on removal of felling residues consisting of branches and tree tops.
The Swedish National Forest Inventory (NFI) has surveyed and produced statistics on tree fellings since the 1950s.The statistics from the NFI, which describe the long-term development of Swedish felling, contain information on felled area and volume. The data are presented as five-year averages and the most recent data refer to fellings carried out during the seasons 2016/17–2020 /21.
The felling statistics from the NFI have also been expanded with information on the area where branches and tops have been removed for energy purposes.
The results are presented on the NFI's website and in the Swedish Forest Agency's statistics database.
Felling statistics for 2021 will be published on 7 June
On 7 June, the Swedish Forest Agency will publish preliminary felling statistics for 2021 and final statistics for 2020. These statistics contain national data on total felled volume and felled volume by assortment.
Background
The Swedish Forest Agency is the authority responsible for official felling statistics. In addition to the official felling statistics that the Swedish Forest Agency produces, the NFI has for a long time also produced felling statistics. The NFI's data complements the Swedish Forest Agency's official statistics, and it has therefore been republished by the Swedish Forest Agency to meet the needs for comprehensive felling statistics. By making the NFI's felling statistics official statistics within the Swedish Forest Agency's responsibility, the content of the official felling statistics is expanded.
The NFI's felling statistics describe the Swedish long-term development for felled volumes, areas and felling ages and are comparable with other statistics from the NFI, such as data on volume increment and standing volume. The data are presented as five-year averages for a period of five felling seasons. A felling season is the time between bud opening (May-June) in a calendar year and bud opening next year. The felling data from the NFI are statistically certain to be presented with five years of inventory material.
The official felling statistics also contain data on harvested volume per calendar year. These data are calculated by the Swedish Forest Agency with a calculation model based on input data on roundwood consumption, foreign trade and stock changes. The results are divided into assortments and are comparable with statistics on roundwood consumption statistic and official foreign trade and stock statistics.
We sometimes get questions about why the volume differs according to the different surveys and what figure is correct. The answer is that the results of the two surveys serve different purposes and that both are correct, which we now emphasize by making the National Forest Inventory's felling statistics into official statistics.